Welcome to Kieferstone! The 2021 British Grand Prix was memorable for a multitude of reasons. A new race format, a look into the future, and of course the boiling point of the Hamilton-Verstappen rivalry. One man who was right there in the thick of it? Red Bull Racing Esports' very own Marcel Kiefer!
The Red Bull star was a guest of the F1 team all weekend and got to enjoy an unforgettable weekend at the track, taking part in team activities, showing his skills on the F1 game, and enjoying all that Silverstone had to offer.
"Going to an F1 race never loses its magic!" he said, attending his sixth race in-person.
"Hearing the fans cheer on their favourite drivers and teams is something really special in person. But for me, seeing how quick these cars are in person, especially in high-speed corners, will always be my highlight. You'd be surprised how loud the current cars are when you are trackside too!"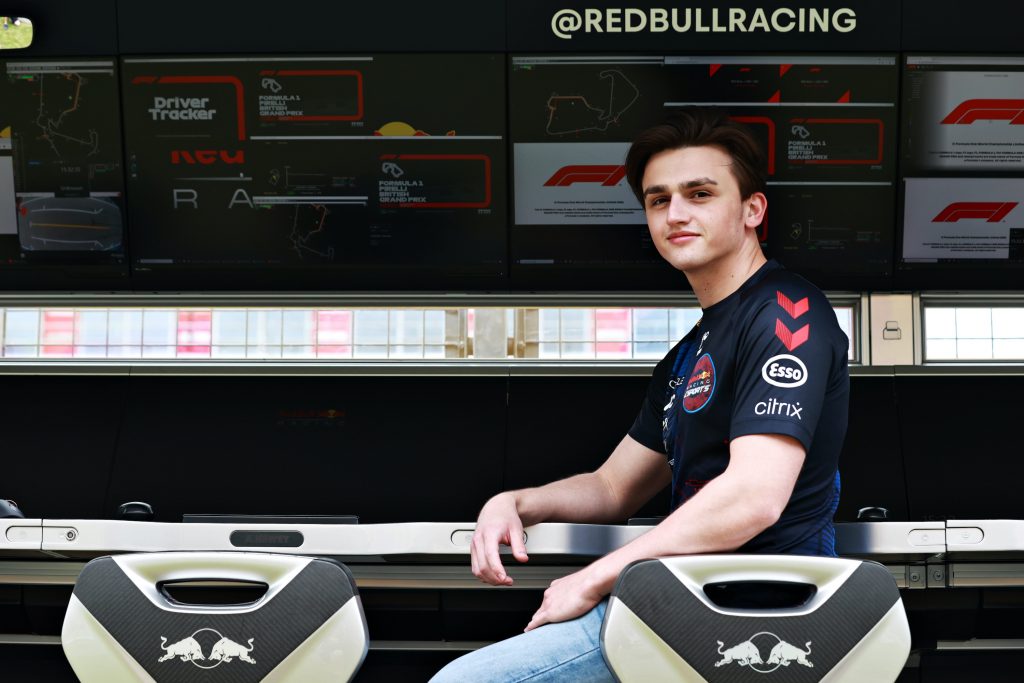 The British Grand Prix was one of the first races to welcome back a fully-fledged capacity crowd, with the event sold out over the weekend. It's a far cry from the state of play in 2020, with racing restricted to remote, virtual events.
Those early Virtual Grands Prix, as well as the 2020 F1 Esports Pro Series, were uncertain times, with global companies operating at arm's length. Despite all the challenges, Kiefer and his Red Bull Racing Esports team managed to claim a second successive Teams' Trophy. And while stablemate Frede Rasmussen had been long-integrated with the team, new recruit Kiefer had the disadvantage of not yet meeting them in person. Thankfully, that barrier was finally crossed at Silverstone.
"One of my biggest highlights was getting to spend time with my team. It's been too long since I've been able to go and work closely with a team, and this was my first time travelling and working with Red Bull in person.
"I love the team so much, I'm really feeling at home, so pretty much whenever I got to spend time with them was a highlight of the weekend for me. I can't wait for more!"
And it wasn't just team bonding that made the German smile. The much-coveted team trophy, which he and Rasmussen earned in 2020, rested within his hands for the very first time.
"To finally get my hands on the team trophy was really special and made me quite emotional. I've always dreamed of becoming a racing driver in Formula 1, so successes like this fuel me with the motivation to continue climbing that ladder to get where I want to be. I'm grateful for having a team around me that believes in me and supports my crazy plans. I'm hungry for more in esports and also in the real racing world!"
Though there was no opportunity to race in anything sporty this time around, Marcel did get behind the wheel of something… even if it took a second to adjust to driving on the left!
"Aside from meeting the team, driving around in a golf buggy and making the paddock unsafe was the coolest thing – the next goal is driving real racecars on an F1 weekend on the track!"
Despite the lack of track action, Kiefer did get out on track, taking part in the track walk, something he's never done anywhere else. Not too long after, he managed to set a world record time around the circuit on the new F1 2021 game. Coincidence? Surely not…
"Silverstone is the only track I've ever walked in person, so I reckon it helps understanding the track characteristics better. I love this place and the team from Codemasters and EA made a great job at replicating this historic British racetrack.
"The new game is arguably the most fun game in years and the soundtrack hypes you up. I think the new Braking Point game mode is one to try for all new and veteran players – it reminds me a lot of Drive to Survive which is cool!"
The new F1 2021 game will of course form the basis of our 2021 F1 Esports Pro Championship, which gets going later in the year. Will Red Bull be able to defend their crown? And who will be driving for them? Don't miss the F1 Esports Preview Show, coming to your screen in September!
Marcel has produced his own vlog from the weekend, which you can check out here.
The post Marcel Kiefer on his Silverstone Experience appeared first on F1Esports News.