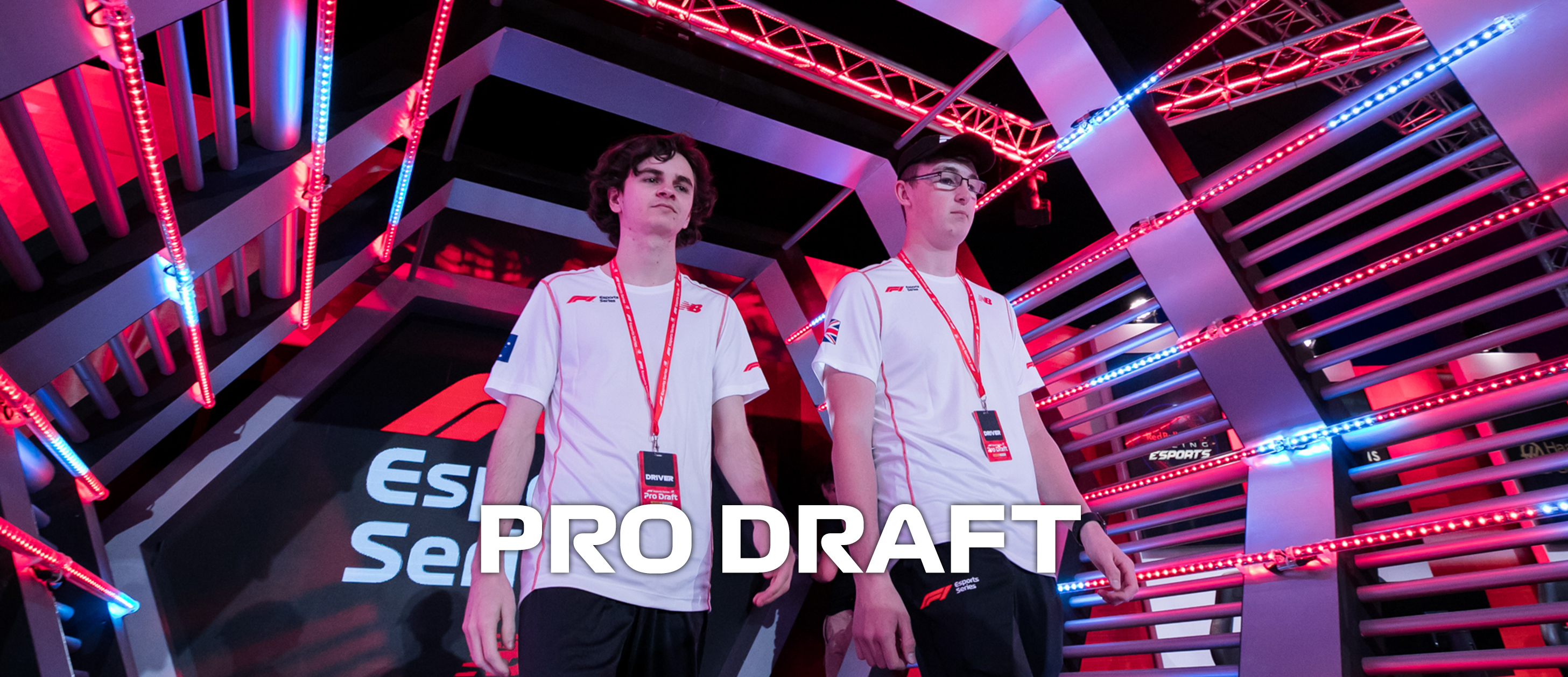 Quick maths. There are 30 seats in total in the F1 Esports Pro Series, with several drivers already confirmed. There are 45 drivers eligible in the Pro Draft. Something's gotta give, right?!
The F1 Esports Series, presented by Aramco, is brimming with talent, and so getting the absolute best drivers into signed seats is something that takes a lot of shuffling around and meticulous planning. Who are our hopeful 45? How have they fared in championships gone by? Let's take a look at the full list for this season's Pro Draft, and see if we can spot any potential superstars in waiting.
FILIP PRESNAJDER
Qualification: 2019 Challenger Series winner, PC
"You might fail 9 times out of ten, but on the tenth time you might dominate." An apt quote from Prensnajder, who crushed the competition in his qualification route in the Challenger Series. The Slovakian has been waiting in the wings for a couple of years now, having made it to the 2019 Pro Draft. Though not picked, his Challenger Series form – where he never finished outside the top four in six races – is sure to put him on any team's radar.
PIETARI POIKELA
Qualification: 2019 Challenger Series runner-up, PC
Finland's Pietari Poikela encountered connection issues during his Challenger Series journey, making it all the more impressive that he wound up in second place. A secondary school student, Poikela intends to study medicine in the near future, but wants to mix his profession with sim racing whenever possible. His versatility is sure to shine through in the selection process.
MATEUSZ WYPYCH
Qualification: 2019 Challenger Series third place, PC
Currently studying computer at the University of Lodz in Poland, Wypych hopes to one day combine his skillset with his passion. He only set his digital foot on the podium once in qualification, but his consistency was something that enabled him to finish a strong third overall in the PC class, a quality that will likely endear him to the 10 official F1 Esports teams.
BENCE SZABO KONYI
Qualification: 2019 Challenger Series fourth place, PC
Szabo Konyi has a vested interest in journalism, writing articles about motorsport and even managing social media channels for a motorsport publication in his native Hungary. It's the passion for racing that truly spurs him on though, evidenced by his 2019 appearance at the Pro Draft, and his excellent record in the AOR esports leagues.
VILLE HAATAINEN
Qualification: 2019 Challenger Series fifth place, PC
Two Challenger Series podiums, and points in every race – these characteristics mark Finnish racer Haatainen as a consistent driver who knows how to get the job done. Nothing compels him more than the spirit of competition and the desire to race hard and fair, even after a busy day's work. He'll be crossing his fingers that his calm Finnish approach puts him in the spotlight for the draft.
ISTVAN PUKI
Qualification: 2019 Challenger series sixth place, PC
One of two elite Hungarian racers to make it into the draft pool, Puki enjoyed a successful Challenger Series with two podiums and several other points-paying finishes. Aside from esports, Puki enjoys swimming, cycling and running, putting him in line with real-world F1 drivers like Jenson Button. His athleticism may well be an eye-catching attribute in the Draft.
OTTO HYTTINEN
Qualification: 2019 Challenger series seventh place, PC
20-year-old Hyttinen fell into the Esports life after a broken knee forced him to the sidelines from basketball – but the Finn has looked well at home, with a strong and consistent stack of Challenger Series results. An avid gym-goer, he too will hope that his physical strength coupled with his mental fortitude puts him on a pedestal for the teams.
BARI BOROUMAND
Qualification: 2019 Challenger series winner, PS4
Chances are, if you've been following Esports for long, Bari Boroumand is a familiar name. He's a decorated karting champion, having won the national championship for the past seven years in a row. He also tested a Formula 4 car in 2018, making him arguably the most experienced on-track racer in the selection pool. Iranian by birth, rapid by nature, and first by the end of the Challenger Series, Boroumand blew the competition away on PS4, with three wins, two second places, and a P8 finish. He also enjoyed three outings for Alfa Romeo in the Pro Exhibition races, scoring points in all three. He's surely a front-running contender for selection in this year's Pro Draft.
TIM PALM
Qualification: 2019 Challenger series runner-up, PS4
A mechanical engineer by profession, Palm relishes the technical side of things as much as the action. He participated in go-karting for 14 years, and got involved with sim racing to scratch his racing itch. He was a part of the Pro Draft in 2019 after setting the timing pages alight during Time Trials, showing he has supreme one-lap pace, and his brace of wins in the Challenger Series marks some solid race-craft too.
SVEN KNOLLER
Qualification: 2019 Challenger series third place, PS4
Another student of engineering, Knoller was remarkably efficient in the Challenger Series, taking three consecutive podiums, and never failing to finish outside the top six. His only blemish was a non-start at the final race, which indicates that there may be more to come from this speedy German.
BERNARDO PÉREZ
Qualification: 2019 Challenger series fourth place, PS4
Pérez took part in the 2019 Pro Draft, and though he was not chosen to race that year, he has kept his faith strong and returned stronger. He took a neat victory in the Challenger Series and only missed out on points on one occasion. Racers like David Tonizza and Lucas Blakeley have shown that just because you didn't get picked one year, doesn't mean the dream is over – Pérez may yet get his time in the sun.
ALVARO AZNAR
Qualification: 2019 Challenger series fifth place, PS4
Aznar looked set to qualifying for the Pro Draft in 2019, only for a puncture to drop him out of the points. The Spanish ace self-proclaims that he didn't practice much for the qualifying rounds, so there's plenty in the tank. If he gets a chance to demonstrate this in 2020, he's sure to earn the attention of those picking the rosters.
KEVIN PURKART
Qualification: 2019 Challenger series sixth place, PS4
With an aim to study logistics as a team leader, Purkart is the kind of person who sets the pace, rather than follows behind… an attractive attribute in any racing driver. His qualifying campaign was blighted by one non-start and one non-finish, so the full extent of his speed may yet be unknown.
CHRISTIAN HAUSSMANN
Qualification: 2019 Challenger series seventh place, PS4
By trade, Haussmann works in the construction industry, and so it was that he built himself a strong haul of points in qualifying, with six points-paying finishes in six races. Speed tempered with consistency is absolutely vital for teams when selecting their rosters, so this German racer may prove to be a popular choice.
NATHAN MOORE
Qualification: 2019 Challenger series runner-up, Xbox One
"There isn't anything I dislike about esports". We hear ya, Nathan. Moore has been involved with every F1 Esports Pro Draft hitherto broadcast, and will make his third appearance in 2020. He'll hope that third time is the charm, after two pushbacks in 2018-19. A fine set of results in the Challenger Series, and a solid pair of outings in the Pro Exhibition races make him a solid choice for 2020.
SHANAKA CLAY
Qualification: 2019 Challenger series third place, Xbox One
"I've had a long go-karting career winning multiple national championships, but when funds ran dry, my passion for racing didn't". Turning to Esports in such a situation is no unusual thing, and Clay's on-track prowess absolutely translates into the digital realm too. As well as his karting successes, Clay took part in last season's Pro Draft. Though not selected that time around, two victories during the qualifying Challenger Series, plus an unprecedented win in the Pro Exhibition series, mark him as a red-hot favourite for selection in 2020. Aside from his racing career, Clay studies psychology, making him a promising prospect of brains and brawn.
ALESSIO DI CAPUA
Qualification: 2019 Challenger series fourth place, Xbox One
Liguria Regional Champion. It's a title di Capua claimed in 2019 in go karts, having raced in the discipline for three years prior. Consistency is something you hear plenty about in racing, and he has it by the boatload. In the Challenger Series, the Italian managed to qualifying second five times in-a-row, converting all of them into points! He was passed by for selection in the 2019 Pro Draft, but will hope to have his chance once again this year.
SEBASTIAN TKOCZ
Qualification: 2019 Challenger series fifth place, Xbox One
Back for more! Tkocz is another returnee to the Pro Draft, having been a part of it in 2019 too. Despite this, he still considers the experience a valuable one, and will be aiming to ascend into a race seat for 2020. His Challenger Series results were remarkable, in that he improved his grid position in every single race, and scored in them all too. In fact, over the six races, he improved by a staggering 22 positions, when comparing his qualifying and finishing positions. That's surely an attribute that will be hard to look past!
LEROY BROWN
Qualification: 2019 Challenger series seventh place, Xbox One
Brown asserts that his dream job would be to work on race cars in a mechanic role, so the love of cars has always been prevalent. A keen karter for more than a decade, his worlds of virtual and reality combine in the best way for the F1 Esports Series. He was part of last year's Pro Draft, and sneaked a victory during his qualifying races.
KEDON LUTT
Qualification: 2019 Challenger series eighth place, Xbox One
18-year-old Lutt has been a force to be reckoned with in F1 Esports for some time now, having been part of the 2019 Pro Draft, and ventured elsewhere in racing too. Another karting enthusiast, and his passion to race against the very best in the world is what spurs him on.
CONNOR LETFORD
Qualification: 2019 Challenger series ninth place, Xbox One
A laid-back and sociable guy outside of his racing, Letford hopes to win over the 10 official F1 teams over with his calm demeanour. He has a goo level of experience in racing leagues such as FORL and AOR, and enjoyed a podium during the Challenger Series alongside two other points-scoring results.
FABRIZIO DONOSO
Qualification: 2019 Play-off winner, PC
Fabulous Fabrizio is one of our best and brightest historic racers in the Esports series, taking the silver medal in our very first season in 2017, an accomplishment his cites as his greatest to date. After an on-and-off 2018 season with Racing Point Force India, Donoso was unable to take part in the 2019 season. However, with solid practice hours and even a Formula 4 test under his belt since then, this Chilean superstar is sure to be a very high-profile option for many of the teams.
ARSEN KARDANOV
Qualification: 2019 Play-off runner-up, PC
Kardanov's fondness for photography is bettered only by that of his love for sim racing. The rapid Russian is one of the older racers in the championship at 27 years old, but that experience and level head is sure to serve him well. He's been the Onboard Esports Russian F1 champion for three consecutive years, giving him plenty of fresh accolades to boast. He enjoyed a hearty Play-off series and will be aiming to put that to good use, should he get a seat.
JUSS PAREK
Qualification: 2019 Play-off third place, PC
Parek was unable to start two of his three qualification races – so to make it through with a podium in his third race is seriously impressive. Like Kardanov above, Parek is a three-time consecutive champion, this time on the ORL F1 League for PC. He has the very precise goal of one day beating Daniel Bereznay at Spa-Francorchamps. A new King of Spa in waiting…
DOMINIK HOFMANN
Qualification: 2019 Play-off winner, PS4
The Hof returns! Hofmann rook part in the Pro Draft in 2018 after a spirited qualifying campaign; now he's back for another shot. A cadet pilot in training, Hofmann's esports career waits in the wings. This high-flyer has been karting for nearly eight years and took to sim racing to continue his competitive racing journey. A win and a second place in the Play-offs could be enough to tip the scales in his direction.
MICHAEL ROMANIDIS
Qualification: 2019 Play-off runner-up, PS4
Romanidis hasn't been involved with F1 Esports in an official capacity before, but you wouldn't know it. The Greece-born racer impressed in his Pro Exhibition outings, snagging three points finishes, in line with his trio of Play-off races, where he also scored heavily. He dreams of a role within an F1 team, whether that be behind the wheel, under the engine cover, or even in a managerial role of an Esports squad. He'll be one to watch in the Draft.
DANI MORENO
Qualification: 2019 Play-off third place, PS4
A business student in his native Spain, Moreno may have the level head required to prevail under even the most intense pressure. Though he's not had a long and detailed history in the F1 Esports Series, Moreno did impress in his Play-off races, taking two podiums and a further points finish. He might've joined the fun in 2019, if not for a damaged front wing scuppering his chances. He knows he's got the pace – so will a team pick him up?
CHRISTOPHER PARRY
Qualification: 2019 Play-off winner, Xbox One
Two non-starts, but one victory, was enough for Parry to win the Xbox Play-offs in 2020. Against all these odds this 16-year-old-finds himself in the Pro Draft while still juggling a heavy workload at school. Parry says that he spent close to 12 hours per day practicing for the Play-off races, so he'll be hoping this dedication pays off.
DAVID SEDGWICK
Qualification: 2019 Play-off runner-up, Xbox One
Whether it's AOR, CRL, or even the F1 Esports Play-off series, Sedgewick has tasted success in most series in which he's competed. His qualifying races saw a win, a second place and a P5 finish, showing his speed for all to see. Currently involved in hospitality, he has designs on becoming a manager one day – time will tell whether that includes managing tyres, brakes, and race results too…
ANTOINE DE ZALUSKI
Qualification: 2019 Play-off third place, Xbox One
Despite no major involvement with F1 Esports before the 2019 Play-offs, de Zaluski has been crowned champion twice in ISF1, both in 2018 and 2019. Add to this a brief flirtation with karting and a solid practice programme leading up to the Draft, and this French racer could see himself on the grid.
ETHAN BETTINESCHI
Qualification: 2019 Time trial winner, PC
Hailing from Perth, Australia, Bettineschi is in good company with regards to F1 racers. This Daniel Ricciardo compatriot smashed the Time trial on PC and will hope to convert his one-lap pace into successful racing prowess, if he is able to get selected by a team.
ALEXANDER KRAFT
Qualification: 2019 Time trial runner-up, PC
A long-time fan of both F1 and gaming, Kraft merged his two passions when he got into F1 Esports, and took a solid second place around Abu Dhabi for the Time trial. A self-described team player, Kraft may have many attributes desired by the teams in the Draft.
CASPER JANSEN
Qualification: 2019 Time trial winner, PS4
Dutch racer Jansen is one of the youngest drivers in contention for a seat at just 17, and almost didn't make it to this stage after a connectivity issue put paid to his Play-off chances. However, he sneaked through to the Play-off phase and blitzed the time trial. Even if he doesn't make it, Jansen's young age means there's every chance we could see him in the future.
THOM BROUWER
Qualification: 2019 Time trial runner-up, PS4
Business student. Sim racer. Streamer. Brouwer has plenty of areas of expertise to match his speed, and according to the man himself, a positive mindset to complement his enthusiasm. His Time trial lap got him to where he is now.
JOAO PEDRO PIANA SANTOS
Qualification: 2019 Time trial winner, Xbox One
This Brazilian racer is itching to break into the motorsport sphere, either in Formula 1, or potentially in Stock Car Brasil in his homeland. He made it all the way to London for the 2019 Pro Draft, only for a collision to wipe out him and his chances. He'll be crossing his fingers that this season goes more his way.
EWAN LE NAOUR
Qualification: 2019 Time trial winner, Xbox One
Le Naour joins F1 Esports having not been involved previously, but he has plenty of experience in other leagues, notably ISF1 and WOR. Racking up nearly 1,000 hours on F1 2019, his transition to the 2020 game will be key in his chances of selection.
TANG TIANYU
Qualification: China Championship winner
Our first ever regional F1 Esports champion, Tang excelled in the 2019 F1 Esports Series China Championship, taking the crown. His strongest memory remains the 2018 Chinese Grand Prix, where he got a taste of Esports in the Fan Zone, and was awarded two paddock tickets to explore the Shanghai nerve centre. He also had an outing for McLaren in the Pro Exhibition Series, pitting him against Pro Series regulars for the first time. He'll be hoping his crown attracts the attention of the official F1 teams.
YUAN YIFAN
Qualification: China Championship runner-up
Yuan was runner up in the China Championship, and also earns himself a spot in the Pro Draft selection pool after his excellent performance in the finals in Shanghai. He and Tang fought hard but fair, with both drivers taking one win and one second place each. They are a very equally-matched duo, so it'll be a tough choice for the teams if they are to select one for their line-up.
MANUEL BIANCOLILLA
Qualification: 2019 Pro Series, 22nd place
The White Lilac himself, Manuel Biancolilla is another strong candidate for a 2020 seat, owing to his extensive experience in the Pro Series thus far. Racing with Toro Rosso and within a stable of talented drivers, he only got three outings in the 2019 Pro Series, with a best finish of P15.
GIANFRANCO GIGLIOLI
Qualification: 2019 Pro Series, 29th place
"I just want another opportunity". So sayeth Giglioli, who only got a trio of outings for FDA Hublot Esports team in 2019. The Venezuela-born Italian racer had the unenviable challenge of being team mates with the champion in 2019, but he's been with us from the very start in F1 Esports, so he'd be a fine selection for any team.
DANIEL SHIELDS
Qualification: 2019 Pro Series, 26th place
Defence? Attack? Shields has both in equal measure. The Aussie was selected by reigning champions Mercedes in 2019, although only ended up getting two outings in the Pro Series proper, with a best finish of P13 in Brazil. The best measure of his talent though is surely his Pro Draft knockout racing prowess from 2019, where he took pole and second place. He'll certainly be eager to show this is the tip of his iceberg.
JAN FEHLER
Qualification: 2019 Pro Series, 24th place
Fehler was one of a handful of drivers who took part in more than ten races last season, entering all but one race of the 2019 Pro Series. He was never quite able to crack the top 10 though, with a best of P13, and finishing P24 in the standings. Still, with a full season under his belt, he has a decent amount of experience that could be a desirable trait for any team.
SIMON WEIGANG
Qualification: 2019 Pro Series, 18th place
"If you wanna be in my gang, you gotta pick Weigang!" – so said Pro Draft host Tom Deacon in 2019. And so it was that the German was selected by Renault Vitality. With the yellow outfit he only got four outings, but scored in all but one of them, with a best of P7 in the Brazil finale. This German efficiency puts him on the radar for re-selection in 2020.
TINO NAUKKARINEN
Qualification: 2019 Pro Series, 11th place
Numero Uno. Naukkarinen will always be the first ever pick in the F1 Esports Pro Draft, being snapped up by Williams in 2018. He remained with the squad for that year and indeed 2019, where he took P11 in the standings overall. His standout moment was a fine second place in China behind David Tonizza, in addition to five other points-scoring races. He' surely a driver in high demand in this year's roster.
ISAAC PRICE
Qualification: 2019 Pro Series, 27th place
The Price was right for Williams last year, with the Briton chosen as the team's Pro Draft racer to add to their ever-expanding Esports operations. Price only had a handful of outings in the Pro Series, with a best finish of P14 in China. His commitment to the series since the very first year in 2017 has made him a household name in F1 Esports.
And that's your lot! 45 of our best and brightest, ripe and ready to be picked by the teams. Thursday August 27 is the date, and we'll be seeing at least 10 of these names plenty more before we're done with 2020.
Who do you think will be selected? Join in the conversation on social media with the hashtag #F1Esports, or join our official Facebook group for more discussion with other fans!
The Pro Draft Reveal Show gets under way on Thursday August 27 at 19:30 BST, across Formula 1's Facebook, YouTube, and Twitch channels, as well as with selected broadcasters. We'll see you there!
The post 2020 F1 Esports Pro Draft: Who Can Be Selected? appeared first on F1Esports News.